Ralph J. Erickstad 1922-2001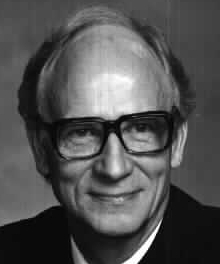 Former Chief Justice Ralph J. Erickstad, 78, the man credited with creating a modern judicial system in North Dakota, died July 12, 2001. He served 30 years on the Supreme Court, the last 20 as Chief Justice, retiring at the end of 1992. Last year the Supreme Court named its courtroom the Ralph J. Erickstad Courtroom. The courtroom was formally dedicated July 12, 2000.
The former Chief Justice is survived by his wife Lois, two sons and their families.
The funeral will be Monday at 1:30 p.m. at Trinity Lutheran Church in Bismarck.
On learning of his death, Chief Justice Gerald VandeWalle said, "Ralph Erickstad was a true North Dakota son. His integrity and work ethic were exemplary. His contributions to the governmental structure of the State are legion. I consider him the leading architect of our current judicial system. We have lost a remarkable man and a good friend."
Justice Erickstad was born on a farm near Starkweather, North Dakota, on August 15, 1922.
He received his early education in the Starkweather public schools and attended the University of North Dakota for a few years before transferring to the University of Minnesota. He received a bachelor's degree and his law degree from the University of Minnesota.
He began a law practice in Devils Lake in 1949 and continued his practice until his election to the Supreme Court. While practicing in Devils Lake, he served as Police Magistrate and served four years as Ramsey County State's Attorney. He also served in the North Dakota Senate during the 1957, 1959, and 1961 sessions.
He was elected to the Supreme Court in 1962 at age 40. Justice Erickstad was a member of the task force on "The Public Image of the Courts," 1978 Williamsburg Conference. He served on the National Conference of Chief Justices—on the Executive Council in 1977-78 and 1980-82, as First-Vice Chairman in 1982-83, and as President in 1983-84—and the National Center for State Courts, as President in 1983-84.
On July 2, 1987, President Reagan appointed him to the Board of Directors of the State Justice Institute for a term that expired on September 17, 1989. He received the North Dakota National Leadership Award of Excellence from Governor Sinner in 1987, the Distinguished Service Award from the State Bar Association in 1988, and the National Center for State Court's Distinguished Service Award in 1989.
Upon retiring from the Court on December 31, 1992, he was appointed Surrogate Judge. He continued to serve the judiciary as chair of the Committee on Tribal and State Court Affairs.
Eastgate Funeral Sevice is handling the arrangements.