The Supreme Court has issued 10 new opinions.
The judges and judicial referees of the South Central Judicial District, attorneys, and other professionals will present a Law School for Caring Professionals on March 10, 17 and 24.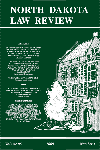 The North Dakota Law Review will present a symposium on North Dakota constitutional law April 16 at the Heritage Center and State Museum in Bismarck.

News Release: "Gov. Doug Burgum has appointed Bismarck attorney Bobbi Weiler to a judgeship in the South Central Judicial District, effective in March 2020."
Wahpeton Daily News: "Anyone willing to earn it deserves a second, or even third, chance. That's one of the beliefs behind the Richland County Treatment Court."