Fargo Forum: "A new paper just published in the North Dakota State Bar magazine tackles the complicated issue of prison sentences, repeat offenders and how the state can make a difference with a more coordinated justice system."
Bismarck Tribune: "Court filings in 2018 in North Dakota stayed fairly steady while Burleigh and Morton counties' judicial district remained the busiest in the state. The South Central Judicial District in 2018 continued a years long trend of logging the most civil, criminal and total case filings of the state's eight judicial districts."
The Supreme Court has issued 29 new opinions.
An e-filing portal is now available for attorneys to electronically file and serve documents in the Supreme Court. Attorneys are encouraged to use the portal to file documents. Documents submitted for filing can be uploaded directly to the Clerk's office through the portal and they can be served on the other parties through the portal.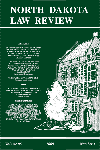 Volume 94, Issue 2 of the North Dakota Law Review is now available online.