What is Juvenile Court?
Established in 1911, North Dakota's juvenile courts are a small subset of the District Courts, but serve many important purposes. The court has jurisdiction over all youth under the age of 18 who have been referred to the court as a result of delinquent or unruly behavior, or children who are alleged to have been subjected to child deprivation. The court also has concurrent jurisdiction with the District Courts over guardianships of minor children.
The Juvenile Court protects the best interests of children and addresses the unique characteristics and needs of children that come before the court as deprived, unruly and delinquent matters.
Following the principles of Balanced and Restorative Justice, the mission is to promote public safety, hold juvenile offenders accountable, and increase the capacity of juveniles to contribute productively to their community.
The juvenile courts empower victims, encourage community participation, and support parental responsibility.


---
Annual Reports
A list of annual reports can be viewed on our juvenile annual reports page.
---
Total Referrals By Case Type
| | | | | | |
| --- | --- | --- | --- | --- | --- |
| | 2015 | 2016 | 2017 | 2018 | 2019 |
| Against Person Offenses | 750 | 834 | 907 | 1047 | 1048 |
| Property Offenses | 1441 | 1327 | 1449 | 1010 | 1339 |
| Public Order | 1029 | 980 | 1051 | 992 | 1149 |
| Unruly | 2492 | 2467 | 2603 | 2408 | 2645 |
| Deprivation | 2714 | 2839 | 3273 | 3349 | 2858 |
| Traffic | 355 | 261 | 239 | 243 | 201 |
| Drug Related Offenses | 1011 | 1059 | 1098 | 1040 | 858 |
| Total | 9792 | 9767 | 10620 | 10089 | 10098 |

Analysis of Juvenile Offenders
---
The age of criminal responsibility in North Dakota begins at 10 years old. At that age, the legislature has determined that youth can be referred to the North Dakota Juvenile Courts on charges of unruly or delinquent behavior. In 2019, the most common age of youth referred to the juvenile courts for delinquent or unruly behavior was 17 years of age. Juveniles age 13 and younger accounted for 25% of all referrals to the courts, a percentage that remained consistent from the previous year.
Male - 3059
Female - 1979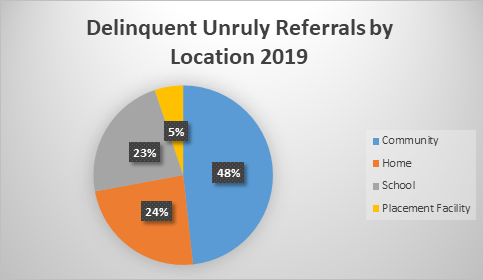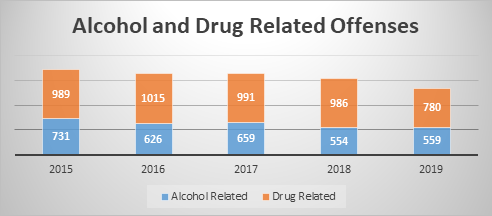 ---
Delinquent / Unruly Cases
What is a "delinquent child"?
A child who has committed an act that is considered a crime for an adult and is in need of treatment and rehabilitation.
What is an "unruly child"?
A child who has committed an offense that is only applicable to a child, such as truancy, consuming or possessing alcohol, disobedience of parental commands, or using tobacco, and is in need of treatment and rehabilitation.
How are cases referred to the juvenile court?
Juvenile Court receives the majority of its referrals from law enforcement agencies. Referrals are also made by county social services, schools, and parents.
Does my child need a lawyer?
A parent or guardian should always consider consulting an attorney for any legal matter or court appearance. The right to an attorney may be waived. If you cannot afford an attorney for your child, you can apply for a court-appointed attorney. The application is approved based on the income of the parents.
Can my child be held in a juvenile facility until the court hearing?
A child can only be held in a locked, secure detention center for the following reasons: they are danger to themselves, or others, or others' property; they may leave or be removed from the jurisdiction of the court and not appear for further hearings; or there is not a parent, guardian, custodian, or other person ready, willing, and able to take responsibility for the child. A child can also be held in an unlocked facility such as attendant care or shelter care for their protection.
What is Diversion?
Diversion means that the case is diverted to another agency or program for services and the failure to follow through may result in court action.
What is an Informal Adjustment?
Before a formal petition is filed, the director of juvenile court or other juvenile court officer assigned, may choose to give counsel and advice to the parties and impose conditions for the conduct and control of a child in an Informal Adjustment. An Informal Adjustment is a type of informal proceeding when a juvenile court officer meets with the child and parents to accept admission of the delinquent or unruly conduct and come to an agreement regarding a resolution of the case such as probation, community services, restitution to a victim, assessment of risks and needs, educational classes, counseling, or any other appropriate plan. If the child denies the alleged delinquent or unruly conduct, the case is forwarded to the county state's attorney for possible petition via the formal process.
What is a Formal hearing?
A formal hearing is a hearing held before a district court judge or judicial referee where witnesses may be called and the judge or referee determines the outcome after hearing recommendations from those involved regarding the best means to treat and rehabilitate the child.
What are My Child's Rights in Delinquency or Unruly Proceeding?
Reasonable notice of the proceedings.
To be informed of the contents of the petition or informal adjustment.
Have a copy of the petition or informal adjustment and have it read to you if necessary.
Representation by an attorney at any stage of the proceeding is the financial responsibility of the parent and if you cannot afford a lawyer, one can be appointed to your child at public expense. Parents are entitled to their own attorney at the disposition phase only of a formal delinquent or unruly proceeding.
Confront and cross-examine a witness who testifies against you in a formal proceeding.
Be informed of the disposition possibilities and length of time a dispositional order may be made.
Appeal a decision of the court.
Are Hearings Closed to the Public?
Juvenile hearings in North Dakota are closed to the public, but be aware that victims of juvenile crimes are entitled to attend juvenile court hearings and to be informed of the disposition.
---
Child Deprivation Cases
How are cases referred to the court?
Child abuse and neglect cases are referred to juvenile court by county social service agencies. The referrals are made usually as part of a child abuse or neglect investigation completed by social services. A decision whether to file a petition with the juvenile court is made by the county state's attorney's office based on evidence gathered in the investigation. If the state's attorney files a petition, a court hearing is scheduled and the legal documents are served on the parties to the case.
What is a "deprived child"?
North Dakota law defines a deprived child as a child who is "without proper parental care or control necessary for the child's physical, mental or emotional health, or morals, and the deprivation is not due primarily to the lack of financial means of the child's parents, guardian or other custodian. A deprived child is also defined by the law as one who has been placed for care or adoption in violation of law, has been abandoned by the child's parents, guardian, or other custodian, is in need of treatment and whose parents or guardians have refused to participate in treatment as ordered by the juvenile court or is a child who is a victim of human trafficking. Children are also considered deprived under the law if they were subject to prenatal exposure to chronic or sever use of alcohol or controlled substances or are present in an environment subjecting them to exposure to a controlled substance, chemical substance, or drug paraphernalia.
What is Emergency Removal or Protective Custody?
Under North Dakota law, a child can be removed from their parents by a law enforcement officer or as directed in a temporary custody order if the child is suffering from illness or injury or is in immediate danger from the child's surroundings and the child's removal is necessary. A hearing before a judge, must be held within 96 hours, to determine whether there is probable cause for the child to remain in shelter care. Reasonable notice, either oral or written, must be given to the parents, if they can be found.
If my child was removed, where is my child now?
When a child is removed from a parental home, he or she will be placed in a safe environment. The social worker will inform the parents or guardians where the child has been placed unless there is some reason to believe that it is dangerous for the parents to know where the children are located. As the case begins, the judge or referee will decide if the child should be returned to the parent or guardian or be placed in the care of a relative, a licensed foster care home or other placement option.
What is a Lay Guardian Ad Litem (GAL)?
A lay guardian ad litem (GAL) is someone who represents the best interests of a child in the court case. A GAL is separate from the county social service agency or the county states attorney's office so that they can provide the judge or referee with independent information and recommendations on such matters as the welfare of the child, parent progress with the case plan, what type of visitation might be appropriate, where the child should live, and when the child could be safely reunited.
---
Victims of Juvenile Delinquency
In 2019, over $80,000 dollars in restitution owed by juveniles as the result of delinquent behavior was collected by juvenile court staff and returned to victims. Restitution collection is challenging with young people as some are unable to work due to age and child labor laws and others are unable due to placement outside of the home for treatment and rehabilitation. In some cases, victims elect to pursue a civil action against parents of a delinquent child as a more viable means of being repaid for losses. Holding youth accountable for their actions and repairing harms done to victims is a significant task for juvenile court staff and one that is taken very seriously.
What Rights do Victims of Juvenile Delinquency have in Juvenile Court?
Victims and witnesses of crimes committed by juveniles are entitled to the same rights in juvenile delinquency proceedings as in any other adult criminal proceeding. Victims have the right to attend either an informal adjustment meeting or a formal court hearing. Informal adjustment meetings are held by juvenile court officers and victims are informed of the date and time of these meetings by the juvenile court office. Formal hearings are held before a judge or judicial referee and victims are informed of the time and date of formal hearings by the county state's attorney or the county victim witness advocate. Victims have the right to make a victim impact statement and to submit a restitution claim for damages related to the delinquent act. Victims have the right to know the outcome of the case.
How is the amount of restitution determined?
In cases where a petition has been filed, the court determines the amount of restitution owed and include the determination in an order. A juvenile court officer may be asked to investigate and recommend a restitution amount. In cases where an informal adjustment conference is held, the juvenile court officer, the youth and parents, along with the victim if they choose to participate, come to an agreement about restitution. If an agreement cannot be reached, the matter may be referred to the county state's attorney for consideration of a formal petition. At any stage (diversion, informal adjustment or formal hearing) a case may also be referred to offender accountability conferencing to determine restitution. If the court, juvenile court officer, or offender accountability conferencing determines that there is an inability to pay all or part of the restitution owed, assignment of community service hours may be considered.
Can parents be held responsible for damages caused by a delinquent child?
Yes, North Dakota law allows for parental restitution to be assessed in certain circumstances. The law requires that the court hold a hearing on the issue and that notice be given to all interested parties as to the nature and amount of parental restitution being sought. There are certain factors that the court must consider such as the ability of the child and parents to pay monetary restitution, whether ordering parental restitution would detract from the child's treatment, rehabilitation or welfare and the number of previous delinquent acts, if any, previously committed by the child. Parental responsibility for restitution is limited under the North Dakota juvenile court act to those damages directly related to the delinquent act and expenses actually incurred. Further the amount ordered in parental restitution cannot exceed five thousand dollars. There are other civil remedies available to victims.
What is Offender Accountability Conferencing?
Offender Accountability Conferences bring together the child offender, the victim, key supports and a trained facilitator to discuss the impact of the juvenile's behavior and ways by which that young person can repair the harm caused. The North Dakota courts contract with Lutheran Social Services of North Dakota to provide offender accountability conferencing along with other restorative justice juvenile services and programs.
---
Community Probation Services
What is Juvenile Probation?
Juvenile probation is the oldest and most widely used method through which a range of services are delivered to delinquent or unruly youth.
Probation is a period of time in which a juvenile court officer is assigned to oversee some conditions imposed by the court or agreed to in an informal adjustment agreement. Standard conditions of probation typically will include law-abiding behavior, school attendance, and successful completion of assigned classes, programs, evaluations, or counseling.
What is a YASI?
North Dakota uses a risk and needs assessments called the Youth Assessment Screening Inventory (YASI) to assess each child's risk of further delinquent behavior and needs needing to be address to positively impact not only the child, but the parents, family and entire community. Other assessments may be used to identify mental health, trauma history or human trafficking. This holistic approach to reducing delinquency seeks to address multiple causal factors which contribute to a youth's misconduct and referral to the courts.
---
Visiting or Contacting the Juvenile Court
The state is divided into seven judicial districts and four administrative court units. Within each unit, there is a Director of Juvenile Court Services who supervises the juvenile court staff and is responsible for the planning and directing of all juvenile court services in the unit. The statutory duties of the Director are spelled out in 27-20-06 N.D.C.C.
Under the direction of the Director of Juvenile Court, the Juvenile Court Officer III assists in providing advanced investigative, diagnostic, supervisory, and probation services in their designated juvenile court office as well as provides supervision of juvenile court officers and staff.
---
Links to Programs / Services
Youth referred to North Dakota Juvenile Court may be referred to programs as part of a diversion, informal adjustment or court order. Services may be offered by the juvenile court staff or referred to a number of outside entities both public and private. North Dakota Juvenile Court Officers teach skills and cognitive restructuring programs to probation youth and families. Some examples of staff facilitated programs include: Decision Making 101, Risks and Decisions, Anger Management, Relationships & Communication Group, Boundaries Class, Girls Group and Boys Group, and SPARCS, a trauma-based program. Court officers also use one-on-one coaching interventions with you on probation through use of the Carey Guides, a skills and tool-based curriculum. The Youth Cultural Achievement Programs (YCAP) are region specific programs that focus on addressing factors that lead to disproportionate minority contact. The Bismarck region has had a cultural liaison program since 2009. The Fargo program began in 2015 and Devils Lake began a program in 2018.
Note that there are some regional variations in the programs and services offered. Contact your local juvenile court office for more specific information.
Below are links to related programs and services:
Youthworks: http://youthworksnd.org/programs/
The Village Family Service Center: https://www.thevillagefamily.org/content/family-engagement-services
North Dakota Attendant Care Program: https://www.ndaco.org/programs_and_services/jj/statewide-detention-support-services-sdss/
North Dakota Division of Juvenile Services: https://docr.nd.gov/division-juvenile-services
North Dakota Human Services Center Regions: https://www.nd.gov/dhs/locations/regionalhsc/
Substance Abuse Treatment Program Providers: https://www.nd.gov/dhs/services/mentalhealth/licensing.html
State Bar Association of North Dakota, Brochure on Graduating into an Adult World: https://www.sband.org/page/graduating_into_an_adult_world
---
Forms
Application for Indigent Defense Services – Juvenile (Child)
Application for Indigent Defense Services – Juvenile (Adult)
Unit One
Shawn Peterson
Director of Juvenile Court
speterson@ndcourts.gov
Grafton (701) 352-0671
Grand Forks (701) 787-2770
Devils Lake (701) 662-1307
Unit Two
Karen Kringlie, JD
Director of Juvenile Court
kkringlie@ndcourts.gov
Fargo (701) 451-6980
Jamestown (701)252-9039
Unit Three
Carrie Hjellming
Director of Juvenile Court
chjellming@ndcourts.gov
Bismarck (701) 222-6709
Dickinson (701) 227-3170
Unit Four
Scott Hopwood
Director of Juvenile Court
shopwood@ndcourts.gov
Minot (701) 857-6650
Williston (701) 774-4371