The Supreme Court has adopted a block argument procedure starting September 2, 2022. The second argument of the morning will be called for argument immediately upon completion of the first. The Justices will not leave the bench between these arguments. The same procedure will apply to afternoon cases.
On days there are three morning cases, the first two arguments will be heard in a block, a break will be taken where the Justices leave the bench, and the 11:00 a.m. oral argument will be heard at that time.
Supreme Court Arguments for Monday, the 3rd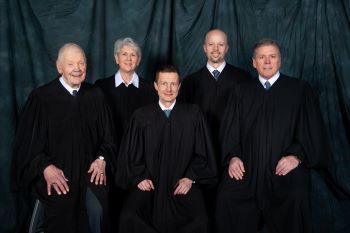 In-Person - Listen to audio live
If you don't hear scheduled argument please try reloading the page.
Zoom - Watch oral arguments on YouTube. Click Here.
The Supreme Court webcasts live all its oral arguments, except when the Court is hearing cases "on the road." For the listing of arguments to be webcast, go to the Calendar:
Browsers which support HTML5 are needed to listen to webcast oral arguments. Micrsoft Edge, Firefox, and Chrome are recommended.
Listening to recorded webcasts
Recordings of oral arguments before the Supreme Court since Jan. 1, 2001, are available to be listened to over the Internet. Recordings of all arguments, except earlier mental health cases, are available. It is our goal to have recordings of new arguments available within 24 hours of the argument. (When the Court is hearing cases outside of Bismarck, the recording are posted when the Court returns.)
The recordings can be reached by clicking on the link on the Calendar page or the Docket page for the case. The individual Calendar page can be reached by clicking or searching:
The individual Docket page can be reached by clicking on the Docket link on the individual Opinion or by searching: