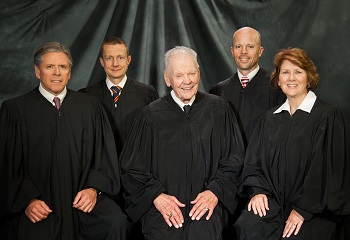 The North Dakota Supreme Court has five justices. Each justice is elected for a ten-year term in a nonpartisan election. The terms of the justices are staggered so that only one judgeship is scheduled for election every two years. However, in the case of the retirement or death of a justice during the term of office, the Governor can appoint to fill the term for two years, when the person must then run for election.
Each justice must be a licensed attorney and a citizen of the United States and North Dakota. One member of the Supreme Court is selected as Chief Justice by the justices of the Supreme Court and the District Court Judges. The Chief Justice's term is for five years or until the justice's elected term on the court expires. The Chief Justice's duties include presiding over Supreme Court arguments and conferences, representing the judiciary at official state functions, and serving as the administrative head of the judicial system.
North Dakota Supreme Court
600 E Boulevard Ave
Bismarck, ND 58505-0530
info@ndcourts.gov
Office of the Clerk
Phone: (701) 328-2221
North Dakota Supreme Court News
The State Board of Law Examiners reminds lawyers that 2019 licenses to practice law in North Dakota expire Dec. 31 regardless of when the 2019 license fee was paid. Lawyers should watch their mail for the 2020 billing in the coming weeks and promptly pay the fee by check or money order.
G.F. Herald: "Justices Daniel Crothers, Lisa Fair McEvers and Jon Jensen filed paperwork before the midnight deadline on Wednesday, Nov. 6, to vie for the top position on the five-member court, according to state court administrator Sally Holewa."
UND Today: "Katie Carpenter says she has the best job in the world. Carpenter, a recent UND Law grad, is serving as a law clerk with the North Dakota Supreme Court."
The Supreme Court justices, district court judges, judicial referees, municipal judges, and a federal judge hosted the Banquet on Nov. 5. The Banquet is a free community dinner served at Trinity Lutheran and hosted by community groups. Here are the photos.
Proposed Amendments to N.D. Sup. Ct. Admin. R. 11