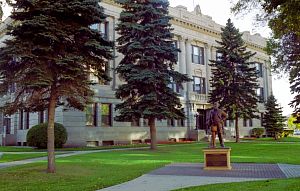 Regular Courthouse Hours: 8am - 5pm
Phone: Clerk's Office - (701) 787-2700
Email: 18clerk@ndcourts.gov
Courthouse Instructions: The main entrance to the Grand Forks County Courthouse is through the East door. See map below:
Parking Instructions: All day parking is located on the 3rd floor of the Grand Forks County Parking Ramp (with an electator) along Bruce Avenue and Third Street.
Jury Instructions: Please turn your cell phones off. Please do not bring gum, food or beverages into the courtroom without permission. If something is needed ask the bailiff or clerk.