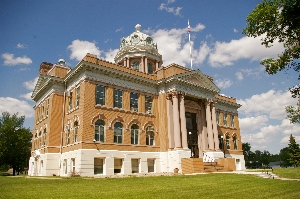 Mailing Address: PO Box 128, LaMoure ND 58458
Courthouse Hours: 8:30-12, 1-4:30
Phone Number: 701-883-6050
Email Address: 23clerk@ndcourts.gov
Courthouse Instructions: On street parking is available and doors are on the South, East and West of the Courthouse. Parking lot is to the East side of the Courthouse. East door has handicapped entrance. Elevator is on the west end of the hall. Clerk's office is in the rotunda on the main floor, Courtroom on the second floor.
Jury Instructions: Check in for jury service at the Courthouse at the time shown on the summons. Report mileage to bailiffs when checking in. Follow all instructions given in your letter. Leave bags and phones in your vehicle.
Courtroom Rules: While attending court, all electronic devices including cell phones must be turned off. No purses or backpacks. No Food. No hats or caps.