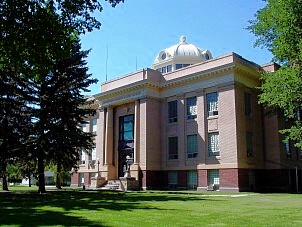 Mailing Address: PO Box 179, Ashley, ND 58413
Regular Courthouse Hours: 8:00am - 4:30pm
Phone: (701) 288-5147
Fax: (701) 288-3671
Email: 26clerk@ndcourts.gov
Courthouse Instructions: The courtroom is located on the third floor. There is a handicapped accessible elevator. The handicapped entrance to the courthouse is the Back door. Parking is available on 1st Street in front of the courthouse or in the lot in back. You must go through the scanner before entering courtroom.
Jury Instructions: You must call (701)288-5147 between the hours of 1:00 and 4:00 P.M. pm on the day before trial to verify if the trial is proceeding as scheduled.
The Courthouse is a smoke free building and grounds. Handicap/elevator use is located in the rear entrance.
Courtroom Rules: While attending court, all electronic devices including cell phones must be turned off. No purses or backpacks. No Food. No hats or caps.