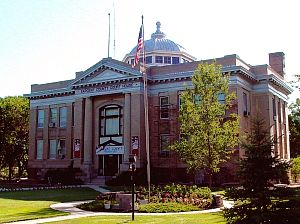 Clerk (ONLY): 355 Main Street South, Suite 2, Forman, ND 58032
Sheriff: 355 Main Street South Suite 6, Forman, ND 58032
State's Attorney: 355 Main Street South, Forman, ND 58032
Mailing Address: 355 Main Street South, Suite 2, Forman, ND 58032
Regular Courthouse Hours: 9:00 a.m. – 4:30 p.m., Closed from 12:00 p.m. -12:30 p.m.
Phone: 701-724-6241 ex t 3
Email: 41clerk@ndcourts.gov
Courthouse Instructions: Parking is available on the street in front of the courthouse on the east side. Parking is also available on the west side of the courthouse in the back parking lot. Handicap accessible and elevator are also located on the west side of the courthouse. The Clerk of Court's office is located on the main level on the south end of the hall. The courtroom is located on the top floor, south end of the building. Please check into the Clerk of Court's office prior to court. Firearms and other weapons are prohibited in the courthouse.
Sargent County Website: www.sargentnd.com
Jury Instructions: Any request to be excused must be in writing and received in five days from the date of the summons. PLEASE DO NOT CALL REQUESTING TO BE EXCUSED. If you are 72 or older and requesting to be excused, please indicate that by circling YES on the questionnaire. If you are under 18, you must still complete the questionnaire and return it. The completed questionnaire MUST be sent in with the written excusal.
You may log on to our website at www.ndcourts.gov/jury to fulfill your obligations. Personal information can be modified by accessing the "Profile" information
To be sure the trial is proceeding as scheduled, you MUST call 701-724-6241 extension 3 one working day prior to the trial date listed above (9 AM to 4:00 PM). Handicap accessibility/elevator is on west side of the courthouse.
JUROR QUESTIONNAIRE MUST BE RETURNED IN 5 DAYS.
Courtroom Rules: While attending court, all electronic devices including cell phones must be turned off. No purses or backpacks. No Food. No hats or caps.