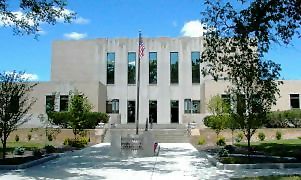 Regular Courthouse Hours: 8:00am - 5:00pm (mountain time)
Phone: (701) 227-3184
Fax: (701) 227-3185
Email: 45clerk@ndcourts.gov
Courthouse Instructions: Enter through the front doors of the Courthouse where you will be greeted by security officers to check purses, bags, etc.
Parking Instructions: Parking is provided free of charge in the front of the Courthouse and in a parking lot on the east side of the Courthouse as well as a handicap ramp.
Jury Instructions: If reporting for jury duty, please refrain from bringing in cell phones and purses. These item will not be permitted in the jury room during deliberations.
Please enjoy your visit to our new Courthouse addition built in 2018, which houses the Stark County Commissioner's room and Stark County State's Attorney offices.