Judge Hovland honored with VandeWalle medal
Friday, June 23, 2023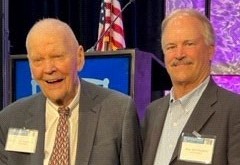 News Release
The Honorable Daniel L. Hovland, District Court Judge for the District of North Dakota, was awarded the Gerald W. VandeWalle Medal at the North Dakota State Bar Association's annual meeting in Bismarck on June 15, 2023.
The Gerald W. VandeWalle Medal was created by the Association's Board of Governors to recognize individuals for their significant dedication and contributions to the administration of justice or the improvement of the judicial system. The award, which need not be given every year, is intended to honor an individual who brings credit to the State of North Dakota and its judicial system or to the administration of justice in North Dakota or the United States. The Association's president consults with the Chief Justice or judicial branch members to identify worthy recipients.
Chief Judge Peter D. Welte for the District of North Dakota nominated Judge Hovland for the distinguished honor, highlighting Judge Hovland's service on the federal bench during a judicial emergency when Judge Hovland was the only Article III judge for the entire district for almost two calendar years, assuming responsibility for the entire district's caseload as well as the Chief Judge's responsibilities.
Chief Judge Welte noted:
"Judge Hovland is a man who is astute, considerate, humble, dedicated, and one of the most decent human beings I have had the privilege of working with in my professional career. All of these are attributes that are core to the namesake of this award: Justice Gerald W. VandeWalle. It is entirely fitting and appropriate that Judge Dan Hovland be given strongest consideration for this honor, because of his entire career, and because of the way in which he has enhanced the administration of justice in both North Dakota and the United States."
Comments submitted by U.S. Magistrate Judge Charles S. Miller echoed Chief Judge Welte's sentiments. Judge Miller emphasized Judge Hovland's "respectful treatment of all who appear before him" and "his infinite patience." Judge Miller noted Judge Hovland's "record as a fair and impartial jurist speaks for itself."
Judge Hovland was nominated for appointment as a federal district court judge by President George W. Bush in June 2002, and he was confirmed by the Senate in November 2002. He served as Chief Judge for the District of North Dakota from 2002-2009 and again from 2016 until 2019. Judge Hovland took Senior status in November 2019, and he continues to carry a full caseload while serving as a Senior Judge.