Stutsman and Barnes County juvenile court celebrates Drug Court Month
Tuesday, May 21, 2019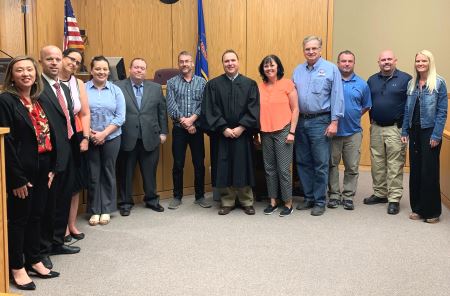 Special guests Representative Bernie Satrom, Justice Jerod Tufte and his wife State Health Officer Mylynn Tufte attended the Stutsman/Barnes Juvenile Drug Court on May 15 in recognition of Drug Court Month. They observed a graduation and court session.
Stutsman/Barnes Juvenile Drug court is a video conferencing court which gives the Barnes County juveniles and parents the opportunity to attend court and not have to travel to Jamestown every week. The court has been operating since January 2013, with Judge Troy LeFevre as the primary judge and Judge Cheri Clark as alternate.
Other team members pictured above are Tonya Duffy, Barnes County State's Attorney; Scott Sandness, defense counsel; Curt Brown, juvenile court officer; Candy Wingenbach, Jamestown High School; Damian Hoyt, case-aide; Dana Rustebakke, Valley City Police Dept.; and Amanda Thomas, coordinator.
Juvenile Drug Court meets on a weekly basis and the program is designed to last from nine months to a year. There are currently six juvenile drug courts across the state and five adult drug courts.