Donald R. Holloway 1936-2019
Monday, June 3, 2019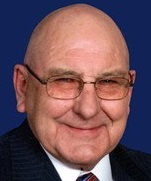 Donald Robert Holloway, 82, of Fargo, ND, passed away with family at his side June 2, 2019, at Villa Maria nursing home in Fargo.

Don was born August 15, 1936, in Cooperstown, ND, to Robert and Geneva (Olson) Holloway. He and his sister Mildred were raised by Geneva and their step-father, Olaf Lura, on the Lura's family farm northwest of Cooperstown. After serving four years in the US Navy, Don returned to North Dakota and married Gloria Burk in 1960, in Cooperstown.

Don attended North Dakota State University and the University of North Dakota School of Law, graduating with his law degree in 1965. He served as North Dakota Securities Commissioner from 1968 to 1976, practiced law in Bismarck from 1976 to 1990, and had the honor of serving as Administrative Law Judge for the Social Security Administration in Wichita, West Des Moines, and Fargo until his retirement in 2007.

Known for his wit and humor, Don was regarded as an amateur historian and expert story-teller. He served in leadership positions for the Bismarck Lions Club, Heartview Foundation, North Dakota and Burleigh County Bar Associations, and Lloyd Spetz Post #1 American Legion Baseball Committee. He and Gloria were active members of Good Shepherd Lutheran Church in Bismarck and Hope Lutheran Church in Fargo.

He is survived by his wife Gloria, daughters Jacqueline (Donavon) Denning and Catherine (Michael) Evenson, all of Fargo, son Douglas (Andrea) Holloway of Prior Lake, MN, grandchildren Grace (Sam) Hall, Elizabeth (Rolland Elendu) Denning, Rachel Evenson, Jacob Denning, Sophia Holloway, Bennett Holloway, and numerous cousins, nieces, and nephews.

He is preceded in death by his mother and step-father, Geneva and Olaf Lura; his father G. Robert Holloway; and his sister Mildred Gumeringer.

Don's family thanks the staff at Villa Maria and Hospice of the Red River Valley for the loving care and comfort they provided to both Don and family.
Funeral Home: https://www.hansonrunsvold.com/obituaries/Donald-Holloway-2/#!/Obituary