Jacque G. Stockman 1923-2019
Monday, June 3, 2019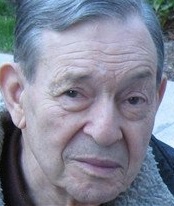 Jacque George Stockman, 95, died at Rosewood on Broadway in Fargo, North Dakota, on Sunday, May 26, 2019.

Jacque Stockman was born on September 21, 1923, in Alamo, North Dakota. He was the first-born child of George F. Stockman and Winnifred F. Stockman. He spent his early years in Alamo with his parents and two younger siblings. The family moved to Fargo when Jacque was a teenager.

Jacque Stockman graduated from Fargo Central High School. After beginning study at North Dakota Agricultural College (now North Dakota State University), he enlisted in the United States Army. Jacque returned from World War II to complete his undergraduate degree at the University of North Dakota. He graduated from the UND School of Law in 1950.

Jacque Stockman married Louise Aandahl in Grand Forks, North Dakota, on September 21, 1947. After living in Grand Forks for three years, they established their home in Fargo in 1950. Four children were born to their marriage: Catherine, John, Caroline, and Joseph.

During the active years of his life, Jacque Stockman established a law practice, farmed north of Fargo, and managed a collection of rental properties. He served in the North Dakota House of Representatives and was a Fargo City Commissioner. Jacque spent time as a board member for The Neuropsychiatric Institute, Bethany Homes, and Gate City Savings and Loan. In addition, he served on the City of Fargo Park Board, took leadership roles in Cass County and Reed Township, was active for many years in First Lutheran Church, and was a member of Fargo Kiwanis.

Jacque is preceded in death by his wife Louise in 2014. He is survived his four children: Catherine (Stockman) Campbell, Lawrence, KS; John Stockman and wife Mary, Hampton, MN; Caroline Stockman and husband Theo Deeder, Calgary, AB; and Joseph Stockman, Kennesaw, GA. He is also survived by nine grandchildren, eleven great-grandchildren, and his brother William Stockman and sister Jean (Stockman) Good.

Entombment has taken place at Riverside Mausoleum, Fargo. A private memorial event will be held at a later date.
Funeral home: https://www.hansonrunsvold.com/obituaries/Jacque-Stockman/#!/Obituary