Judge Larry Hatch 1930-2019
Wednesday, November 6, 2019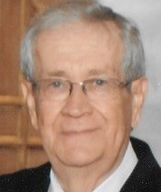 Larry M. Hatch, 89, Fargo, formerly of Linton, ND, passed away peacefully November 4, 2019 with his family surrounding him.
Larry was born in Linton, ND on July 31, 1930 to Lloyd and Anne (Meier) Hatch. He was raised in Linton and graduated from Linton High School in 1948. He enlisted in the Navy the same year. After being honorably discharged, he attended NDAC, which is now NDSU, for two years when he was called back into the Navy during the Korean War. In April of 1954 he was again honorably discharged.
In 1954 he entered UND at Grand Forks, where he completed his bachelor's degree. Larry went on to law school and graduated in 1958. That same year he practiced law in Linton, ND, and was also elected States Attorney for Emmons County, ND. That same year December 28, he married the love of his life, Mary Ellen Charrier, in Langdon, ND.
In October 1972 he was appointed a District Judge of the 3rd Judicial District. With reorganization of the district court system, he became Judge of the South Central Judicial District. He served in this capacity until July of 1991.
In 1991 he resigned and moved to Fargo, ND to accept the position of Administrative Law Judge, for the office of Hearings and Appeals of the Social Security Administration. Larry retired in December 1998.
Following his retirement, Larry and Mary Ellen wintered in Sun City West, AZ for 15 years. Larry enjoyed going for walks, golfing, reading, traveling, spending time in AZ and watching sports. The thing he loved most was spending time with his wife, kids and grandchildren.
Larry is survived by his wife of 60 years, Mary Ellen, his sons: Jeff (Karla Sue) Hatch and their son, Ethan; Mike (Sue) Hatch and their daughters, Brandy and Bethany; Jim (Carla) Hatch and their sons, Ben and Owen; and their daughter, Christy (Allen) Grensteiner and their children, Luke, Ashton and Olivia. He was preceded in death by his parents, Lloyd and Ann Hatch; an infant son; sister-in-law, Kathy Basiago; and brother-in-law, Dick Charrier.
There will be a visitation from 6-7:00 PM with a prayer service following at 7:00 PM on Friday, November 8, 2019 at Boulger Funeral Home and Celebration of Life Center, Fargo. The funeral Mass will be at 11:00 AM on Saturday, November 9, 2019 at Nativity Catholic Church, Fargo with a visitation one hour prior. Interment at 1:00 PM on Monday, November 11, 2019 at the Fargo National Veterans Cemetery.
In lieu of flowers, please donate to Hospice of the Red River Valley or the Alzheimer's Association.
The family would like to extend a special thank you to the staffs at the Touchmark Memory Care Unit and Hospice of the Red River Valley.
Funeral Home Link: http://boulgerfuneralhome.com/obituaries/larry-hatch/