Kraig A. Wilson 1972-2021
Friday, September 24, 2021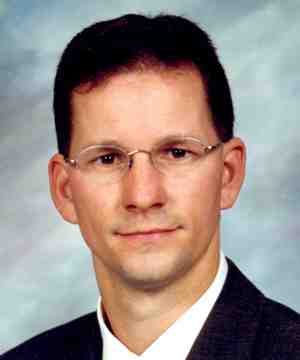 Kraig A. Wilson, 48, of Grand Forks, ND passed away on September 23, 2021, in Altru Hospital in Grand Forks.
Kraig Allen Wilson was born on November 13, 1972, in Scottsbluff, NE the son of Donnie Wilson and Wendy Brush. Although Kraig was born in Nebraska, he spent his life growing up in Casper, WY and graduated from Natrona County High School. After high school, he attended Casper College and then transferred to the University of Wyoming. In 1995, Kraig moved to Grand Forks to attend the University of North Dakota where he pursued a degree in Law. Kraig graduated from law school in 1999. He practiced at Morley Law Firm, in Grand Forks, where he became a partner and practiced law for over 20 years.
Kraig was an avid sports fan who supported all things UND. He never missed a hockey game or a football tailgate. He also enjoyed watching basketball, specifically the Duke Blue Devils. However, anyone who knew Kraig knew that there was nothing that he loved more in the world than his two beautiful daughters, Jordyn and Taylor. They were the light of his life and he enjoyed every second with them. Whether it was sitting on the couch doing nothing or traveling around the country, there was never a moment wasted. You could always count on his support at a volleyball game or a barrel race. He also loved spending time with them at the lake, going for cruises on the boat and sitting around the campfire singing songs.
He is survived by his two daughters, Jordyn and Taylor, his girlfriend, Becky Murphy, former wife, Jill Wilson, two brothers, Shannon Wilson and Galen Wilson; nephews, Jaron and Jacob and a niece, Hope; his parents; several cousins and countless friends. All who will deeply miss him.
Memorial Service: 1:00 p.m. Monday, September 27, 2021, in the Historic Norman Funeral Home Chapel.
Family Greeting: One hour prior to the service in the funeral home on Monday.
Please, join us for a celebration of Kraig's life from 5:00 to 8:00 p.m. Monday, September 27 at the Ground Round Restaurant, 2800 32nd Ave. South in Grand Forks, ND.
Funeral Home Link: https://www.normanfuneral.com/obituary/kraig-wilson