Chief Justice visits Marmot School students
Thursday, January 23, 2020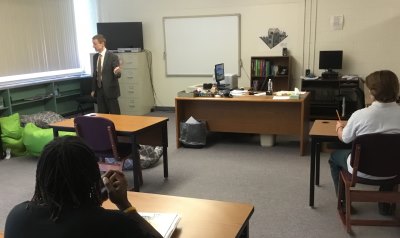 Chief Justice Jon J. Jensen recently made two visits with students at the Marmot School located at the Youth Correctional Center in Mandan.
On Dec. 11, 2019, at the invitation of Lindsey Guidinger, school counselor, Chief Justice Jensen spoke to students about the educational requirements to become a Certified Public Accountant and future career opportunities in the accounting industry. The visit was arranged through the North Dakota Society of Public Accountants as part of their Public Relations Committee. Members of the Committee meet with high school and college students throughout the state to discuss career opportunities as a CPA and how to become a CPA.
On Jan. 14, 2020, at the invitation Tina Nygard, who is a librarian, English and Social Sciences instructor, and Read Right tutor at the school, Chief Justice Jensen spoke to students about the North Dakota judicial system and courts. The visit part of the Court's initiative to provide education on North Dakota's judicial system.
For more information on the Court's educational program please contact the Court's Director of Education, Lee Ann Barnhardt, at LBarnhardt@ndcourts.gov .