Justice Jensen, Judge Louser visit Minot High School
Thursday, October 10, 2019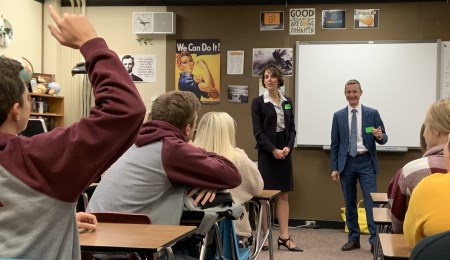 Judge Stacy Louser and Justice Jon Jensen recently visited Minot High School at the invitation of Chauncy Hendershot, the AP Government & Politics teacher.
Judge Louser and Justice Jensen spoke to senior students in Mr. Hendershot's AP Government class. Judge Louser and Justice Jensen shared information about North Dakota's judicial system, spoke about Fourth Amendment issues inside and outside of schools, and answered questions from the students.
The presentation was part of the Courtrooms2Classrooms program. The Courtrooms2Classrooms program facilitates visits to classrooms by members of North Dakota's judiciary. For more information regarding the program, contact Lee Ann Barnhardt, Court Administrator's Office, LBarnhardt@ndcourts.gov .