Thompson appointed referee and magistrate in SCJD
Wednesday, September 22, 2021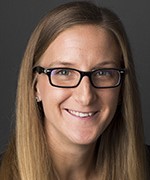 Presiding Judge Bruce Romanick, on behalf of all of the South Central Judicial District Court judges, has appointed Krista Thompson as a Judicial Referee and Magistrate.
Thompson replaces the Hon. Lindsey Nieuwsma who was appointed as a district judge.
Referee Thompson is a University of North Dakota School of Law graduate. She was admitted to the North Dakota bar in 2015.