Thomas J. Gunderson 1941-2020
Monday, July 27, 2020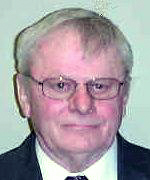 Minot attorney Thomas J. Gunderson, 78, died July 22. His funeral is scheduled in New Town at Saint Anthony's Catholic Church at 11 a.m. on Wednesday, July 29. Internment of ashes will be at Saint Anthony's Catholic Cemetery, with a celebration of his life and meal to follow at Four Bears Park, Southeast side.
Tom, also known as Tommy Gun, Gundy, the Gundy Man, Lord Gundy, and Son of a Gunder, was respected and loved by family and friends. Born on December 27, 1940, Tom grew to embody a true gentleman in the best sense of the word.
A friend recently recalled the first time he met Tom in 2008. It was a lunch meeting where Tom and two of his colleagues were introduced as the Public Defender Team for Minot. As a prosecutor, the friend was instantly struck by Tom's gregarious and friendly personality. More so, he – like so many others — recognized Gundy's determination to offer legal help to those who had no money. He worked at the legal services office in New Town, N.D.
He later went to work in Minot, which was one of the first public defender offices in North Dakota. As such, the Minot newspaper wrote about the public defender office and profiled Tom for a feature story on September 17, 2008. Tom was described as "a jovial fellow," a man "quick with a smile and kind word," and "good-spirited." The reporter mused it was difficult to envision Tom in the rough world of being a trial lawyer, but noted "for 36 years he's done just that."
Those who knew Tommy Gun were aware of his stories of mischief in his Turtle Lake childhood, his Army service in Germany where he was in the same tank battalion as Elvis Presley, his law school escapades, and his career as a legal services attorney at Fort Berthold. Tom married the love of his life, G. Janet "Gertsy" (Spotted Bear) Gunderson. He instantly stepped up to the plate as a father to his four stepchildren; Jodi Rave (Frankie), Carlin Rave Jr., Tiffany Rave (Omar), and Whitney Bell (Tarina). They later adopted a child, Jordan Rose Spotted Bear Gunderson.
During their marriage, Tom launched his own private law practice in New Town. Outside of his office, near the current tribal courthouse, Tom posted a prominent sign outside his law office. The sign read: Tom Gunderson "Warrior for Justice." The sign remained for years after Tom had moved to Minot. It was a tribute to the service he provided in the tribal community. Tom, as a legal services advocate, and Gertsy, as director of the MHA Department of Social Services, were a positive force in the lives of countless Mandan, Hidatsa and Arikara families. Gertsy accepted and appreciated Tom's humor. After her death, he missed her for the rest of his days.
She used to say Tom was the only honest lawyer she knew. That's because Tom cared little for money, privilege, power or fame. When lawyers get together there are bound to be "war stories" about various courtroom experiences. Unlike many, Tom never boasted or told self-serving stories about his skills or legal prowess. Rather, he focused on the positive traits and inherent worth of his clients. Tom Gunderson earned his law degree at the University of North Dakota. During his life, he worked at legal services, law firms in Bismarck and Dickinson, private practice, the city of Minot, and he also served as a judge at the Fort Berthold and Standing Rock reservations.
As a lawyer, Tom wanted all people to get a fair shake, especially those confronted by power and societal influence. Tom was a keen student of history and worried about authoritarian tendencies in our country, whether from the right or left, which may serve to undermine our democracy.
We now say farewell to our jovial Warrior for Justice. His humor, kindness, goodness have certainly left an indelible imprint on us all. He will be missed dearly by his grandchildren: James "Jimmy" Brugh — and great-grandchildren, Alexandrea, Jayley and Max Brugh — also, Tierra Rave, Victoria Fox, Castle Fox, Luke Rabbithead, Rave Rabbithead, David Dobbs, and the Bells — Symbria, Ariana, Xavier, Xaria, Brycen, Blayze and Sayara.
Tom is survived by his brothers Rob Gunderson of Turtle Lake and Mike Gunderson (Sue) of Yakama, Washington. He is proceeded in death by his father Gunder Gunderson, 1989, mother Clara Gunderson, 2001, and G. Janet "Gertsy" Gunderson, 2003.
Link to "Tom Gunderson remembered as 'Warrior for Justice'": https://www.buffalosfire.com/tom-gunderson-remembered-as-warrior-for-justice/