New lawyers admitted to bar in Supreme Court ceremony
Wednesday, May 1, 2019
Nineteen new lawyers were admitted to the North Dakota bar during a ceremony on April 29 in the Supreme Court's Ralph Erickstad courtroom.
Bradley Beehler, a member of the State Board of Law Examiners, made a motion for admission of the new attorneys on behalf of the Board. Board President Jane Dynes then talked to the group about the legal profession. She noted that political philosopher Edmund Burke once said that: "No other profession is more closely connected with actual like than the law. It concerns the highest of all temporal interests of man -- property, reputation, the peace of all families, the arbitrations and peace of nations, liberty, life even, and the very foundations of society."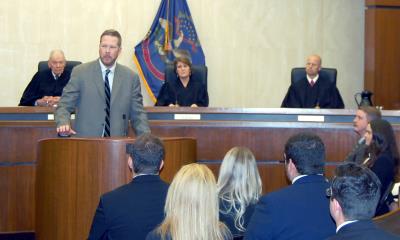 Zachary Pelham, President of the State Bar Association, encouraged the new admittees to get involved in the Association and their communities but not to forget about those who support them, and to make time for families.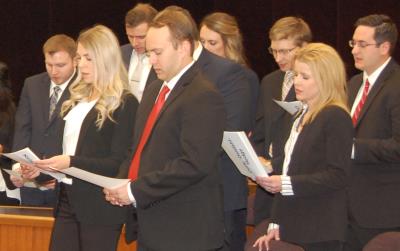 Justice Lisa Fair McEvers lead the new admittees in the Lawyer's Pledge.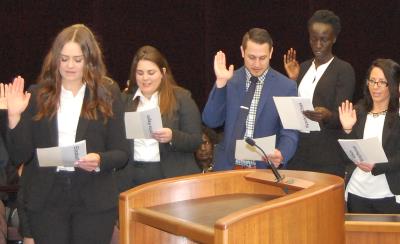 Justice Jerod Tufte administered the Oath to the new lawyers.
Admitted at the ceremony were Trent Barkus, Nyachom Chiek, Kyle England, Caroline Hagen, Kelsey Harrison, Elisabeth Hewett, Anders Larson, Dorothy McAuliffe, Cody Ostdahl-Hedge, Mark Pilch, Katherine Sand, Shelby Schields, Dustin Slaamod, Nathan Stittleburg, Marquel Stuedemann, John Thomas, Austin Wald, Kyle Weinberger, and Alison Wimpfheimer.