Erickstad sculpture unveiled
Wednesday, January 15, 2003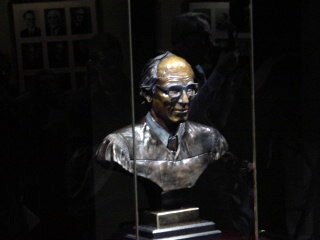 A bust of former Chief Justice Ralph J. Erickstad now stands outside the courtroom that bears his name
The bust was unveiled in a ceremony Wednesday afternoon in the Supreme Court atrium, which was packed with judges, attorneys, legislators and Bismarck area media.
Chief Justice Gerald VandeWalle said that the unveiling represented the "capstone" of dedication ceremonies for the Supreme Court's Ralph J. Erickstad Courtroom.
The courtroom was named after Erickstad in a July 12, 2000, ceremony and a plaque is permanently mounted in the courtroom with an explanation of some of his accomplishments. Erickstad died July 12, 2001.
The Erickstad bust was created by sculptor Arnold Addicott of Stanley, North Dakota. Erickstad's son Mark said the sculpture was such a good likeness of his father that the family dog reacted to it on seeing it in the Erickstad home
Erickstad's sons Mark and John, both Bismarck doctors, assisted their mother Lois in unveiling the sculpture.
John Erickstad thanked those present at the unveiling, and said his father would have gone around the room and thanked everyone individually for coming to the ceremony.
VandeWalle said that Erickstad's presence will always remain with those who worked with him, and that the sculpture would serve as a link between Erickstad and future generations of North Dakotans who did not know him.
Speaking at the ceremony, State Bar Association of North Dakota president Gary Lee recalled that he argued a dozen cases before Erickstad.
"If I close my eyes I can still see him on the bench," said Lee. "He was the very image of a chief justice -- courteous, dignified and tenacious."
Lee said Erickstad's questions in court were always precise and to the point, and that it was an "honor and education" to appear before him. "He made us better lawyers," said Lee.
Judge Dan Hovland, Chief U.S. District Judge for North Dakota, said Erickstad respected everyone who came before him in court, treating each person with dignity.
Hovland, who represented the sculpture committee at the ceremony, thanked all the private parties who contributed time, effort and money to make sculpture a reality. The sculpture is a legacy to Erickstad's many contributions to North Dakota, said Hovland.
Senator Bob Stenehjem also spoke at the ceremony. In the 1960s, Stenehjem was a Boy Scout and Erickstad was his troop leader. Stenehjem said Erickstad's work with the Scouts was just a small example of his commitment to service in the community.
Erickstad "always gave 110 percent to everything he was involved with," said Stenehjem. The sculpture shows that North Dakota appreciates Erickstad and his many accomplishments, said Stenehjem.
Attorney Rolf Sletten was master of ceremonies for the event, and attorney Joel Gilbertson provided piano music prior to the ceremony.