Fargo Inn of Court celebrates women's right to vote
Friday, January 10, 2020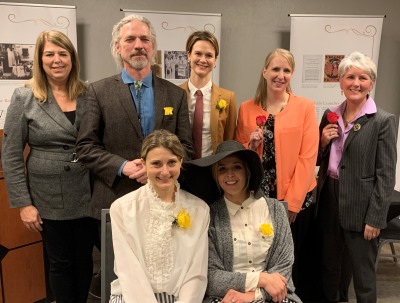 On Dec. 10, Supreme Court Justice Lisa Fair McEvers and East Central Judicial District Judge Stephannie N. Stiel participated in a program organized by the Ronald N. Davies American Inn of Court in recognition of the 100 year anniversary of women's right to vote.
Unsuspecting guests at the event were asked to choose a rose (yellow or red) as they entered the presentation room. Guests were not initially told about the meaning behind the roses.
In 1872, Susan B. Anthony was arrested, indicted, tried and convicted for illegally voting in the Presidential election. A reenactment of the Susan B. Anthony trial was performed at the event.
Justice McEvers played the role of Judge Ward Hunt who presided at the trial.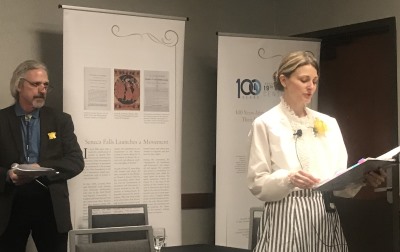 Judge Stiel played the role of Susan B. Anthony. Steve Lamb with the Vogel law firm played the role of Susan B. Anthony's attorney, Henry Selden.
Shannon Parvey of Parvey, Larson and McLean, PLLC played the role of Richard Crowley, the U.S. Attorney who prosecuted Ms. Anthony. Mary Batcheller with Maring Williams Law Office, P.C. played the role of one of the witnesses, Mr. Beverly W. Jones. Erin Larsgaard with Wold Johnson, PC was the moderator. Other members of the group who helped put on the program included Conor Smith, Law Clerk to Judge Alice Senechal, District of North Dakota and Lisa Gibbens with Senator Cramer's office. Some wore costumes.
After the skit, members were told the meaning behind the roses and the war of the roses that ensued. Yellow roses were worn by those supporting women's right to vote. Red roses were worn by those who did not support the right to vote.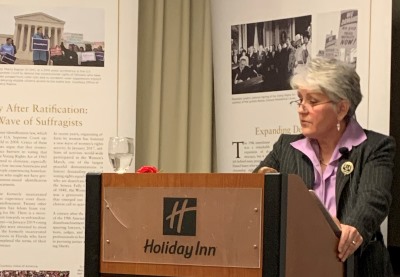 The reeanactment was followed by Justice McEvers giving a speech on what ratification means today. During her speech she highlighted some of the government positions that North Dakota Women have held since gaining the right to vote and the right to hold government offices. The room where the event was held was decorated with posters from the American Bar Association's 19th Amendment Traveling Exhibit.