The Court was working, yet the courtroom was empty
Tuesday, March 24, 2020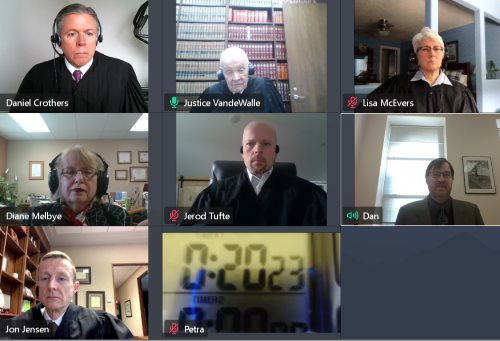 Most of the lights were out Monday at the North Dakota Supreme Court - part of social distancing caused by the COVID-19 pandemic. But the Justices conducted business nevertheless - simultaneously from locations all over the state.
In what is believed to be a first in North Dakota, Monday the Court heard three oral arguments using an online meeting application permitting seamless audio and video participation.
The cases also were broadcast live over the internet, just like the Court does with arguments heard in the Bismarck courtroom.
Each Justice took part in the oral arguments from separate locations. Even though physically separated, they all appeared on the same computer screen, along with lawyers for both sides.
As usual, the lawyers presented their cases and the Justices questioned counsel, all in real-time and just as if the session was occurring live in the courtroom.
Chief Justice Jon Jensen and Justice Gerald VandeWalle were in different locations at the Capitol.
Justice Dan Crothers worked from his home in Bismarck. Justice Lisa Fair McEvers was located at her house in West Fargo. Justice Jerod Tufte participated from his rural Kidder County home.
In one case district court judge Rhonda R. Ehlis sat for Justice Tufte, who was disqualified. Judge Ehlis joined the Court from her chambers in Dickinson.
After the oral arguments, the Court met using another secure videoconferencing application to discuss the cases amongst themselves. The Court's decision will be written by one of the Justices and released in the future.