Supreme Court visits UND School of Law
Wednesday, November 20, 2019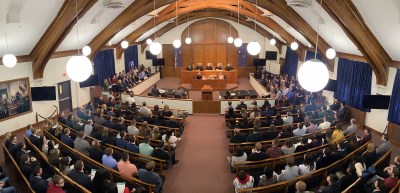 The Supreme Court visited the UND School of Law on Oct. 30-31 to hear oral arguments, judge the moot court competition, and meet with students.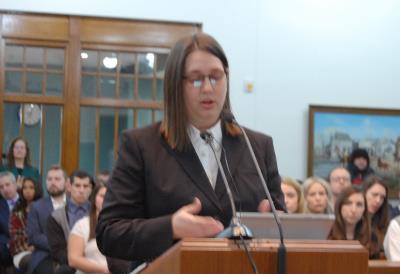 The Court heard arguments in State v. Legare on Oct. 30. Kiara Kraus-Parr represented the appellant.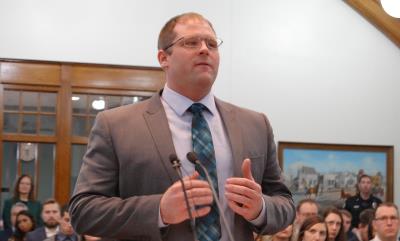 Josh Frey argued on behalf of the state in the Legare case.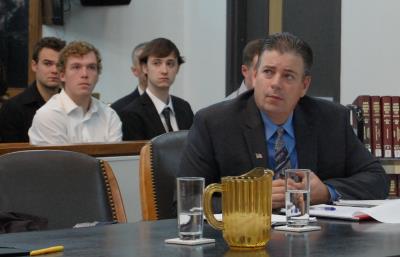 Paul Emerson also represented the state in Legare.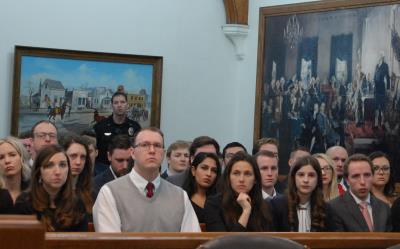 First and second year law students listen to the arguments in Legare.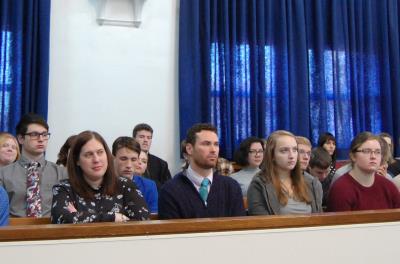 Students and teachers from Central Valley High School also attended the arguments.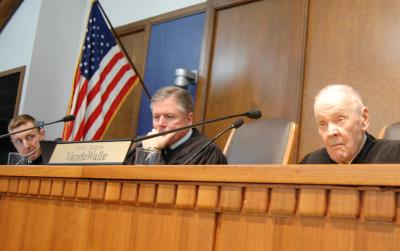 The Court listened intently to the arguments.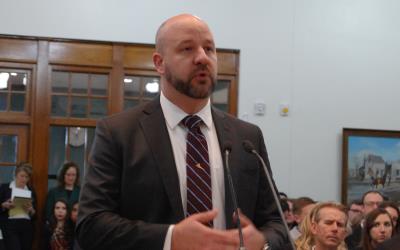 The Court also heard arguments in Minn-Kota Ag Products, Inc. v. N.D. PSC, et al. Loren Hanson argued for Minn-Kota.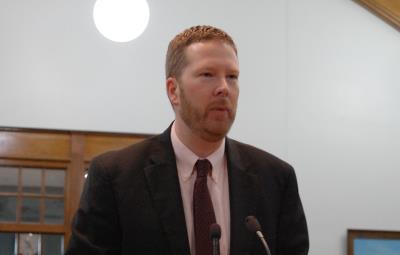 Zachary Pelham represented the Public Service Commission.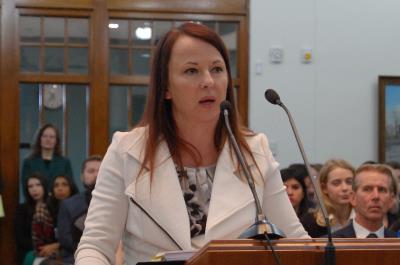 Kim Radermacher appeared on behalf of Dakota Valley Electric Cooperative.
After the arguments, Chief Justice Gerald VandeWalle visited Prof. Julia Ernst's International Human Rights Advocacy class.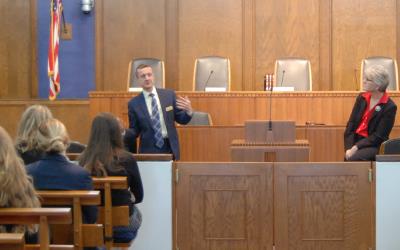 Justice Jon Jensen and Justice Lisa Fair McEvers spoke to the Lawyering Skills I class taught by Prof. Denitsa Mavrova Heinrich.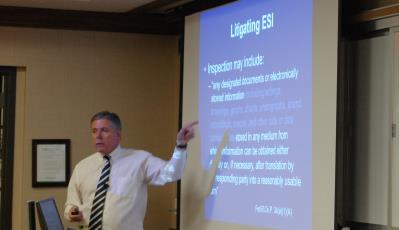 Justice Dan Crothers presented material to Prof. Margaret Moore Jackson's Evidence class.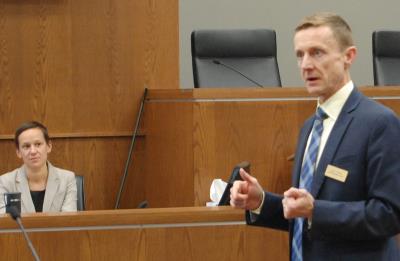 Justice Jensen made a point to Prof. Heinrich's Trial Advocacy class.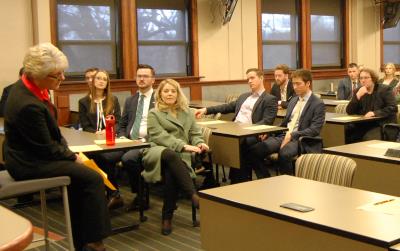 Justice McEvers spoke to a law clerk information session.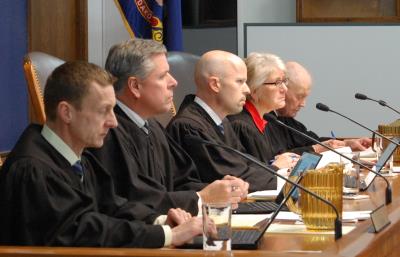 The Court judged the moot court finals on Oct. 30.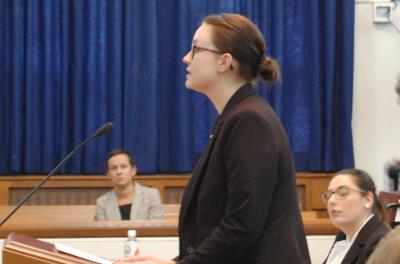 Moot court contestants Katie Winbauer and Tatiana Hamilton represented the Appellant.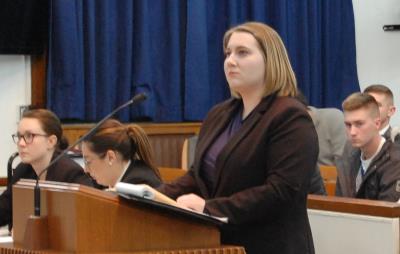 Martha Amdahl and Logan Caldwell argued for the Appellee in the finals.

The Court posed after the arguments with the moot court board, Ana Nykolayow, Liz Kriz, Abigale Griffin, Eric Koppy and Kelsey Stock.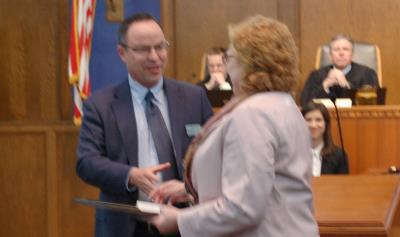 Clerk of the Supreme Court Penny Miller was recognized by Dean Michael McGinniss on behalf of the law school for her many years of service to the Court and the law school.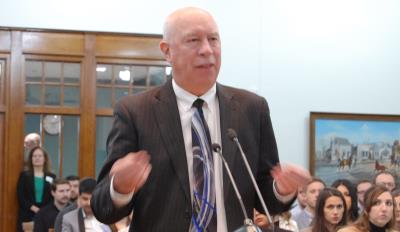 On Oct. 31, the Court heard arguments in McDougall, et al. v. AgCountry Farm Credit Services, et al. Kip Kaler represented the McDougalls.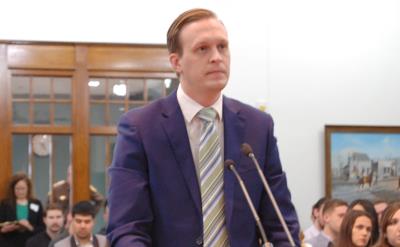 John Schroeder argued for the Appellee, AgCountry Farm Credit Services.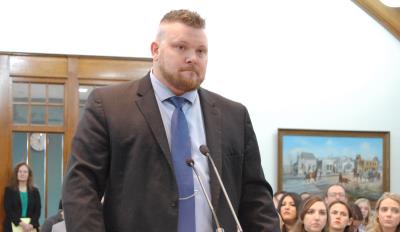 The second Oct. 31 argument was in State v. Job. Sam Gereszek represented Job.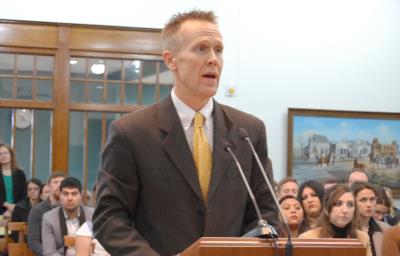 Reid Brady argued on behalf of the state in the Job case.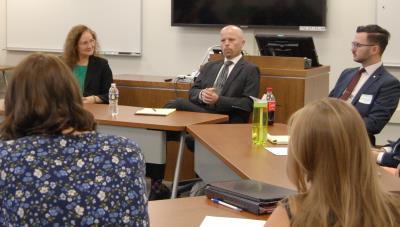 Justice Tufte later visited Prof. Ernst's Legislation class.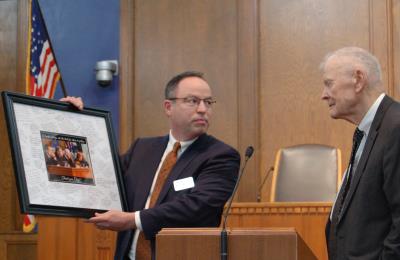 Dean McGinnis presented an inscribed photo to Chief Justice VandeWalle thanking him for his years of service as Chief Justice.