Cast of Characters:
John Henry Newton
In 1952, John Henry Newton, clerk of the North Dakota Supreme Court, suggested to one of the mail carrriers who delivered mail to the Capitol that he consider reading the law. The mail carrier was O.A. Schulz. Newton and Schulz had become friends and Newton told Schulz he could become a lawyer by studying the law under a lawyer or a judge.
Newton was born in Williston on July 1, 1891 in Williston. He served as clerk of the Supreme Court from March of 1917 until his death in October of 1968 ­ a period of more than 55 years! He was deputy clerk of the Supreme Court from April of 1913 until he became clerk.
At a special session of the Supreme Court honoring Newton after his death, Bismarck Attorney Milton Higgins said:
John Henry was known to me, as I am sure to most members of the Bar, as a "walking encyclopedia" of North Dakota decisions. I have related to many that if they were unable to find in the digests a North Dakota case which they remembered reading but with title, volume and page no longer within memory, the last resort should be a telephone call to Mr. Newton.
Higgins went on to remember Newton as a warm and friendly individual ­ not arrogant. Higgins said:
He never forgot that the noble mission of the courts is to achieve justice and made this clear to all who dealt with him.
Honorable James Morris
After John Henry Newton suggested to O.A. Schulz that he read the law, the two decided the most highly qualified and desirable mentor would be the Honorable Justice James Morris, who had become a Justice of the North Dakota Supreme Court in 1935. Justice Morris reluctantly agreed, but admonished Schulz sternly about the requirements which would be imposed.
Schulz was to spend a minimum of 17 hours a week at his studies for a period of five years. Justice Morris contacted Dean Thormodsgard at the UND Law School and requested an outline for a course of study. Justice Morris added to the requirements, insisting on attendance at selected arguments before the Supreme Court and case research. Research for other justices of the Supreme Court was required and those justices evaluated Schulz for Justice Morris.
Justice Morris was born in a prairie sod house in Bordulac on January 2, 1893. He was educated in Cincinnati, receiving his law degree from the University of Cincinnati Law School. He practiced law in Carrington until the outbreak of World War I. After serving in the war, he returned to Carrington and resumed his practice.
Before his election to the Supreme Court, he had served as Attorney General. He was 41 years old when he was elected to the Supreme Court and was re-elected in 1944 and 1954.
He took about a year's leave of absence to serve as a member of the three-judge Major War Crimes Tribunal in Nuremberg, Germany in 1947 after World War II. He served on the North Dakota Supreme Court for almost 30 years.
Justice Morris was active in the American Legion and organized the judicial branch of North Dakota Boys State in 1938. He participated in each session of Boys State until 1966.
After his retirement, Justice Morris served as a Supreme Court Commissioner and resided in Bismarck until his death on July 20, 1980.
At a special session of the Supreme Court honoring Justice Morris in August of 1985, he was remembered for his sense of humor ­ he was said to love a good joke or funny story even if it was about him.
O.A. Schulz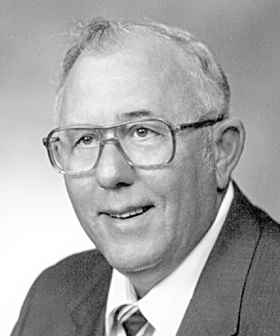 O.A. (Orville) Schulz's legal career began with a suggestion from his friend John Henry Newton that Schulz consider becoming a lawyer by studying the law under the tutelage of a lawyer or judge. Newton made the suggestion in 1952. In 1954 Schulz embarked on a course of study with Justice James Morris of the North Dakota Supreme Court.
Schulz had already engaged in several careers when he started to study the law. He grew up in Golden Valley, the son of a rural mail carrier. After high school, he served in the Air Force. He completed his military service and took a course at Dickinson State College which enabled him to teach for two years at a one-room school south of Hazen.
In May of 1952, Schulz went to the employment service office in Bismarck and was sent to the post office, where he began to work, first as a substitute mail carrier. He delivered mail at the Capitol and became acquainted with Newton, the long-time clerk of the North Dakota Supreme Court.
1954 was a banner year for Schulz. He met and married his wife, Mary, and began his legal studies.
The rules set out by Justice Morris included a requirement Schulz spend a minimum of 17 hours a week at the Supreme Court studying. Schulz said 17 hours was not enough time for him to complete his assignments, which included monitoring specific Supreme Court arguments, research and a course of study. Schulz continued his work for the Postal Service, working a full 40 hours each week at odd shifts which would allow him to meet his study requirements.
Each Monday morning, Justice Morris gave Schulz oral examinations and reviewed his work. Schulz claims that to this day his blood pressure automatically rises on Monday mornings.
Schulz attended Bismarck State College to meet the pre-law requirements. His classmates elected him Governor for the Day in a program sponsored by the Bismarck Elks and in 1958 he received the Wall Street Journal Award in Economics.
In 1959 Schulz took the bar exam and passed. He was admitted to practice and opened a law office in New Salem. Mary was his office manager. In 1964, their son, Jason, was born.
In 1972, Schulz purchased the office of Gerald Galloway at Center. Schulz was Oliver County State's Attorney from 1972-1978. In December 1982, Schulz sold his law offices and moved to Washburn to become County Judge for McLean, Mercer, Oliver and Sheridan Counties. He retired in 1995 and enjoys golf, woodworking and following the stock market.
Schulz was highly regarded by his colleagues in the ranks of the county judges. His quick wit and wealth of knowledge were readily available. He advised new county judges to read the bench book as a learning and review tool ­ and practiced what he preached.
When his judicial colleagues sought a pay raise from legislators, Schulz was quick to remind them what he had learned from his clients who were farmers: There are two kinds of years in the farm economy, bad years and good years when the tractor breaks down. While Schulz disclaims any intent to pass his wisdom along through his stories, he says, "If you found humor in my stories, that's enough."
Schulz said he feels fortunate to have had the one-on-one training provided by Justice Morris. He notes when he read the law there were many practitioners who had gained their legal education the same way.
While Justice Morris would not accept payment for his work with Schulz, Schulz was greatly pleased to repay Justice Morris's "tolerance and generosity" when Justice Morris and his wife, Amelia, became residents at the Missiouri Slope Nursing Home.
This article was written by District Judge Gail Hagerty of Bismarck, and first appeared in the June/July 1998 issue of The Gavel. It is reprinted by permission.